In 1998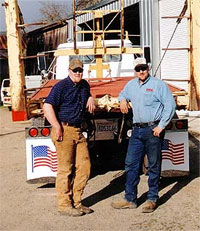 Kevin Finta was fresh out of high school and after a few days spent at a junior college, he decided that school was not for him but, hard work and determination were. Kevin decided to pursue a company that he started six months prior while still in high school, Finta Hay Service. Finta Hay Service grew rapidly through strong customer service, dedication and a hard working staff. During this time of growth, Kevin saw opportunity in other fields through customers and contacts that were made through Finta Hay Service.
In the Spring of 2005, Kevin formed Finta Trucking offering customers the same dedication and service that had proven so vital in the success of Finta Hay Service. By offering specialized services such as dirt, debris and concrete removal, along with a water truck service, as well as selling sand, aggregate and landscaping materials, Finta Trucking quickly grew with a strong, diverse customer base made up of private, public, and commercial entities.
In 2008 after repeated requests from customers asking for Finta Trucking to provide a service to install and applicate products that it had delivered, Kevin decided to launch Finta Enterprises Inc.. Finta Enterprises Inc. merges all of the diverse entities offered to continue to build on the same foundation of hard work, customer service and attention to detail that has allowed, Finta Hay Service, the original company, to thrive for the last decade.